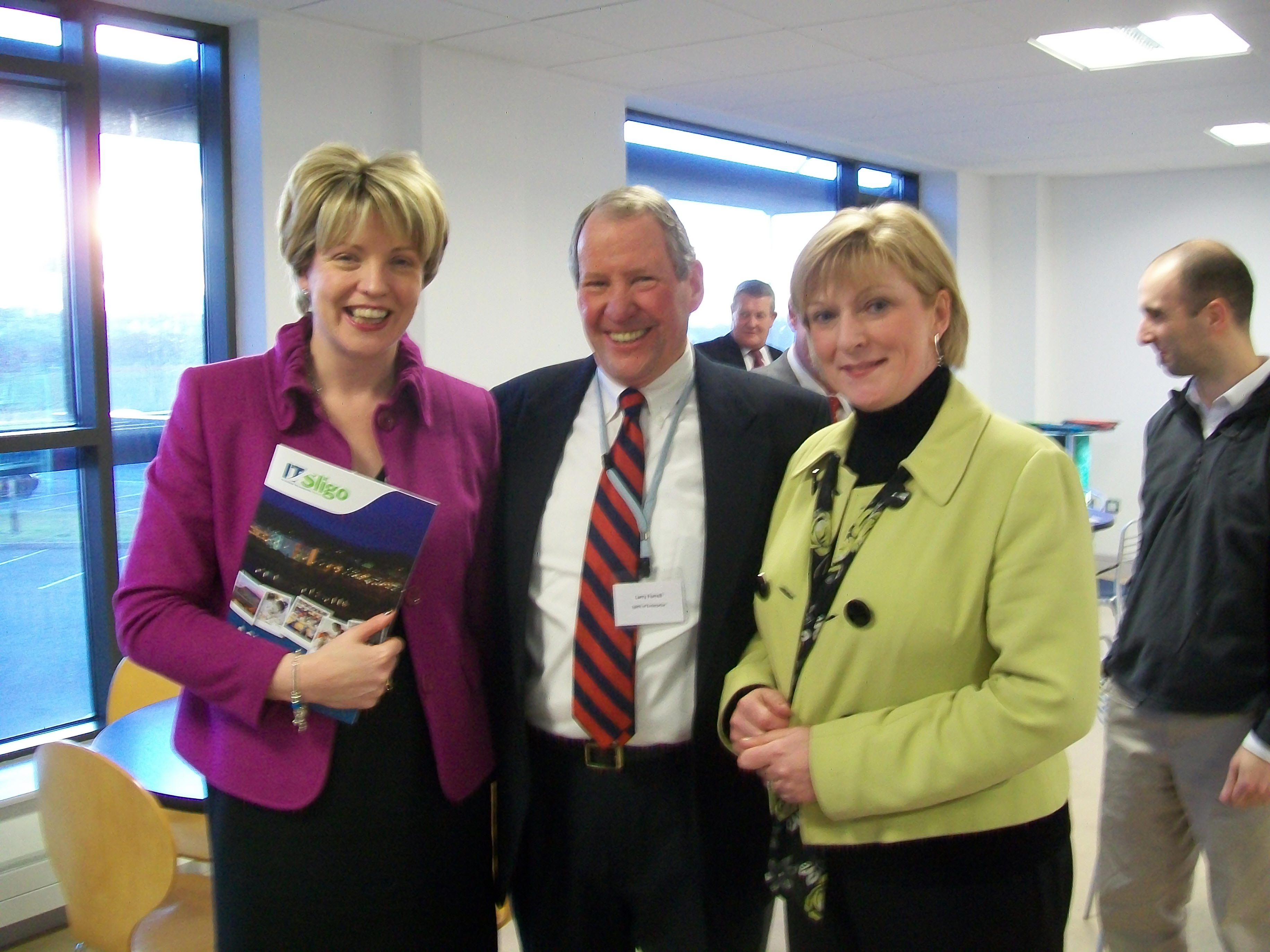 Celebrating IT Sligo's Innovation Week in February 2010. On Larry's left, Mary Coughlan, Deputy Prime Minister of Ireland and on the right, Terri Scott, President of IT Sligo.

Official agenda for discussion on "Creating An Entrepreneurial Economy" with Mayor A. C. Wharton of Memphis and selected civic leaders.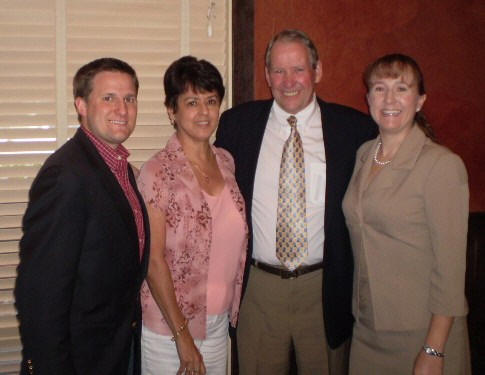 Host Eric Matthews (left) of Launch Memphis, with Sylvia and Larry Farrell (center) and Bridget DiCello (right) of Building Bridges, LLC.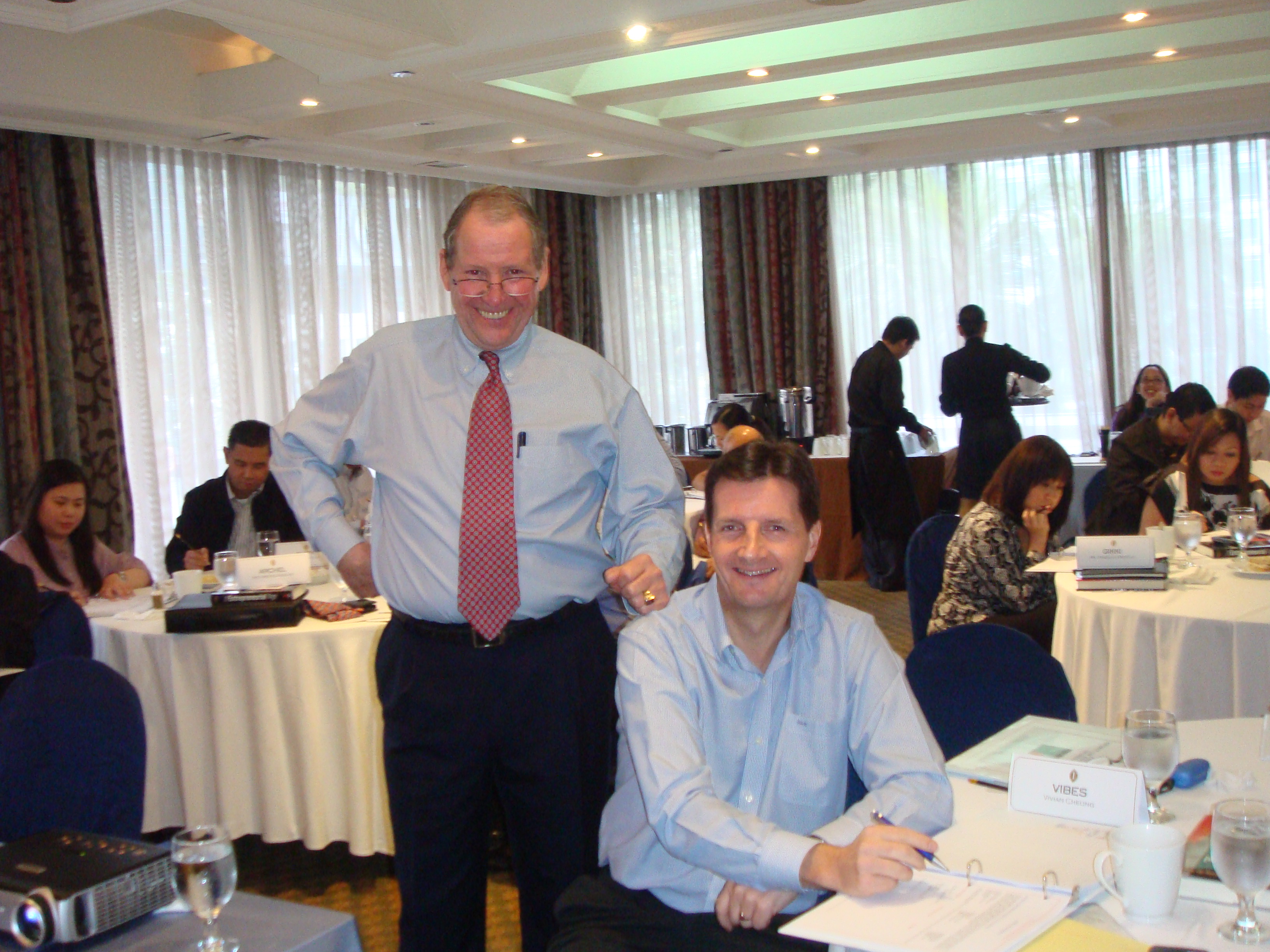 Larry with Paul Richards, President of Mead Johnson Philippines (obviously a very good "student") during the first session in Manila back in January 2010.
5. Junior Achievement Worldwide: JA's two entrepreneurial programs: JA It's My Business for middle school and JA Be Entrepreneurial for high school were both created by the Farrell Company -- and are being used by hundreds of thousands of students around the world each year. Larry continues to play the role of JA's informal "ambassador for entrepreneurialship" and recently did just that for Junior Achievement of Virginia. One of JA's key corporate supporters, and the sponsor of Larry's visit was the young, entrepreneurial HomeTown Bank headquartered in Roanoke, VA. So while he was in Virginia, he also delivered a luncheon address for clients of the bank. See the photos below of Larry with the Presidents of both organizations.
6. China Again...and Again: Larry delivered the keynote address at the 2010 World Summit on Innovation Economy" in Nantong, China. The sponsoring agency was the National Association for Vocational Educational of China. We keep going back to China for two reasons: They've got high interest in what we do -- and they've got the money to pay for it!
Right: Larry and other speakers with Dr. Li Zheng (third from the left), our Affiliate for China and Chen Guangqing (third from the right), Director General of NAVEC and his senior team.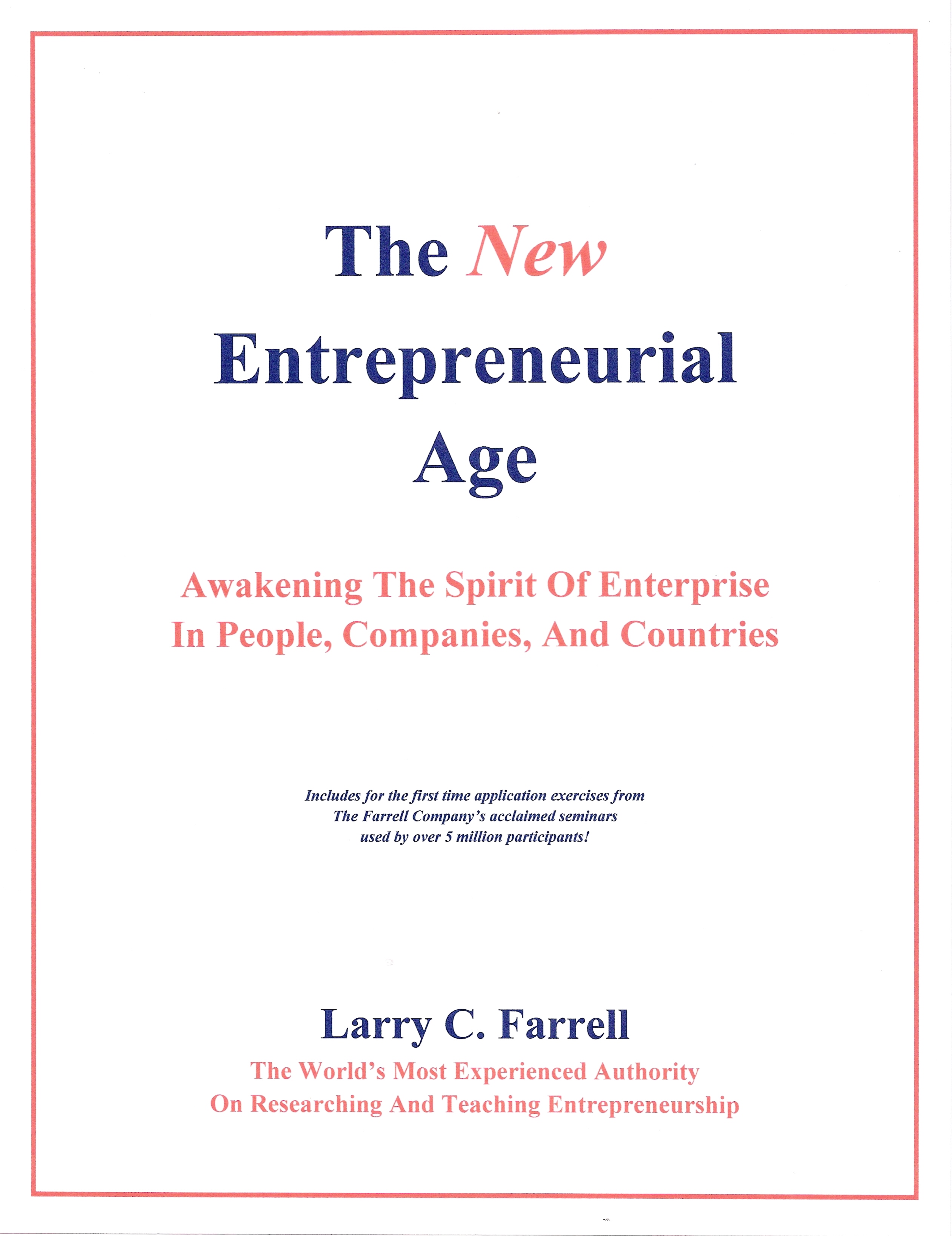 1. Ireland - Entrepreneurship in the Emerald Isle: As reported earlier, the Institute of Technology at Sligo (www.ITSligo.ie) is our newest affiliate in Europe. Larry went over in February to speak at the Institute's "Innovation Week." It was a gala affair highlighted by a visit from Mary Coughlan, Ireland's Deputy Prime Minister
Later in the year, Larry trained the first 30 Irish professors (from Sligo, Cork, Dundalky, Galway, Donegal and Dublin) to teach our Getting Entrepreneurial! Seminar in the nationwide program "Accelerating Campus Entrepreneurship." The "ACE" initiative mandates that every Irish university student must take at least an introductory course on entrepreneurship. The Farrell Company was selected six months ago as the outside firm to assist the overall effort by providing practical teaching and mentoring tools. It's a big, long-term project to get Ireland on a more entrepreneurial track for the future -- all driven by the current difficult economic times in the country.
2. The Entrepreneurial Spirit Arrives in Memphis: The highlight of Larry's three-day visit to Memphis in September, to participate in the city's "EmphasizeMemphisBiz" celebration was his brainstorming session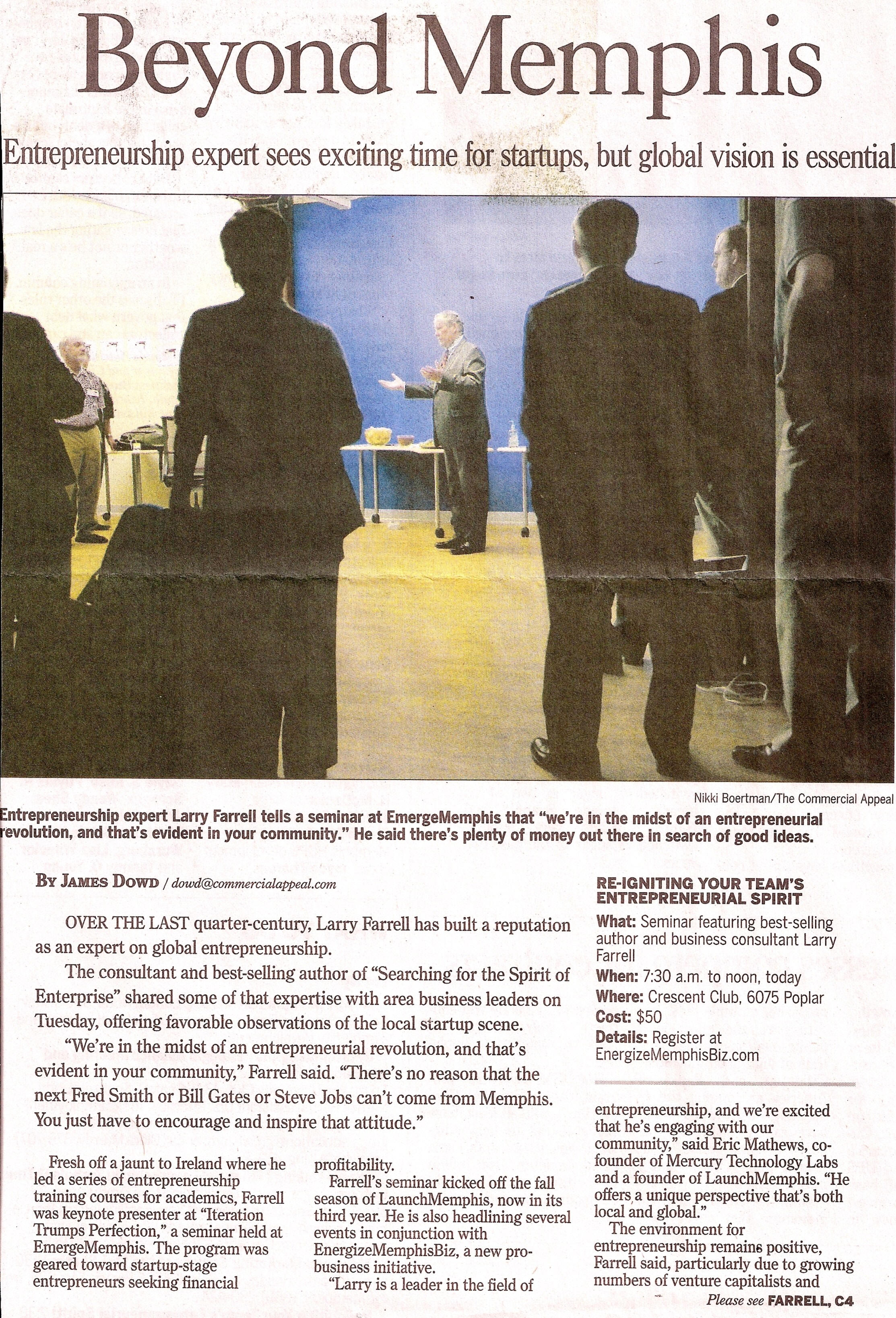 with Memphis Mayor A.C. Wharton and a small group of civic leaders. The mayor requested the meeting with Larry to discuss "creating a more entrepreneurial, job-creating economy" for the city of Memphis. He was quite interested in our recommendations and at the end of the meeting asked his staff to have a plan on his desk within 30 days on how to to proceed! Undoubtedly, the Mayor's interest is being driven by the recession and Memphis' 18% unemployment rate. Stay tuned...
Right: News coverage of Larry addressing an EnergizeMemphisBiz event.
Click here to view Larry being interviewed by Fox TV Memphis about his meeting with the Mayor.
3. Mead Johnson Philippines: Since we first reported that Performex (www.Performex-Asia.com), our new affiliate in the Philippines, had signed up the American company Mead Johnson, as its first "Spirit of Enterprise" client, Mike Joseph and his team have gone on to train virtually the entire company. Congratulations to Mike and thanks to Mead Johnson Philippines for being such a terrific client. Of course it helps that Mead Johnson, Inc., headquartered in Chicago, and boasting global sales of $2.8 billion and a market value of $9 billion, has adopted "corporate entrepreneurship" as one of its core values!
4. Social Entrepreneurship On-Line: Darrell Luzzo, our good friend and former client at Junior Achievement Worldwide) is now Vice President for Product Strategy & Development at Laureate Education Group. Laureate is a major force in both campus-based and on-line education, owning some 45 universities around the world. Darrell called us mid-year for help in creating an on-line course on Social Entrepreneurialship for Laureate's US flagship school, Walden University in Chicago. Working with Laureate's design team, headed by Christine Wallace with Billy Treger doing the writing, we based the course on our Getting Entrepreneurial! book which is also the required text for the course. The Walden Social Entrepreneurialship course is up and running as we write. Check it out at www.WaldenU.edu and search for course "PSPA 2050."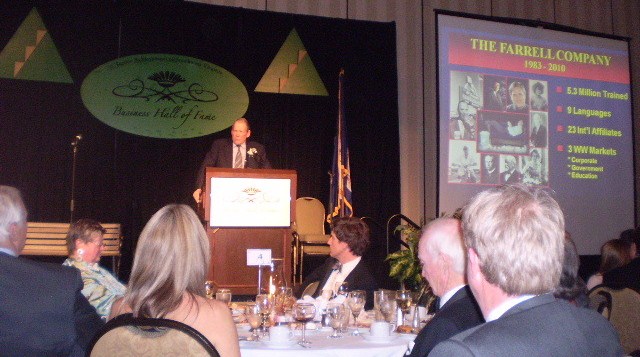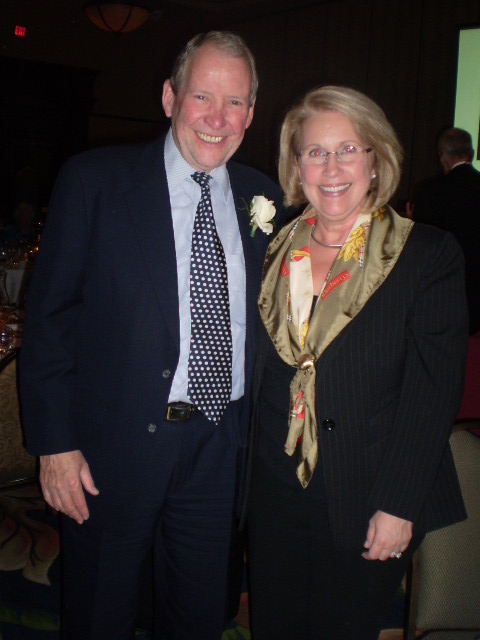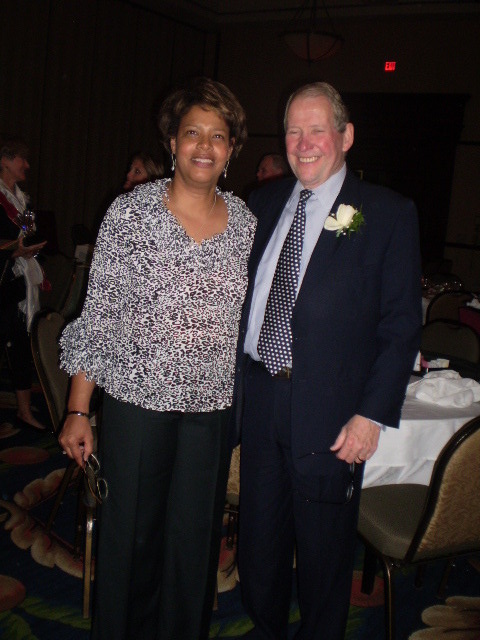 Above: Larry addressing Junior Achievement of Virginia's annual "Hall of Fame Dinner" in Roanaoke.
Larry with Susan Still (left), President of HomeTown Bank and Katherine Elam (right), President of JA Virginia, respectively.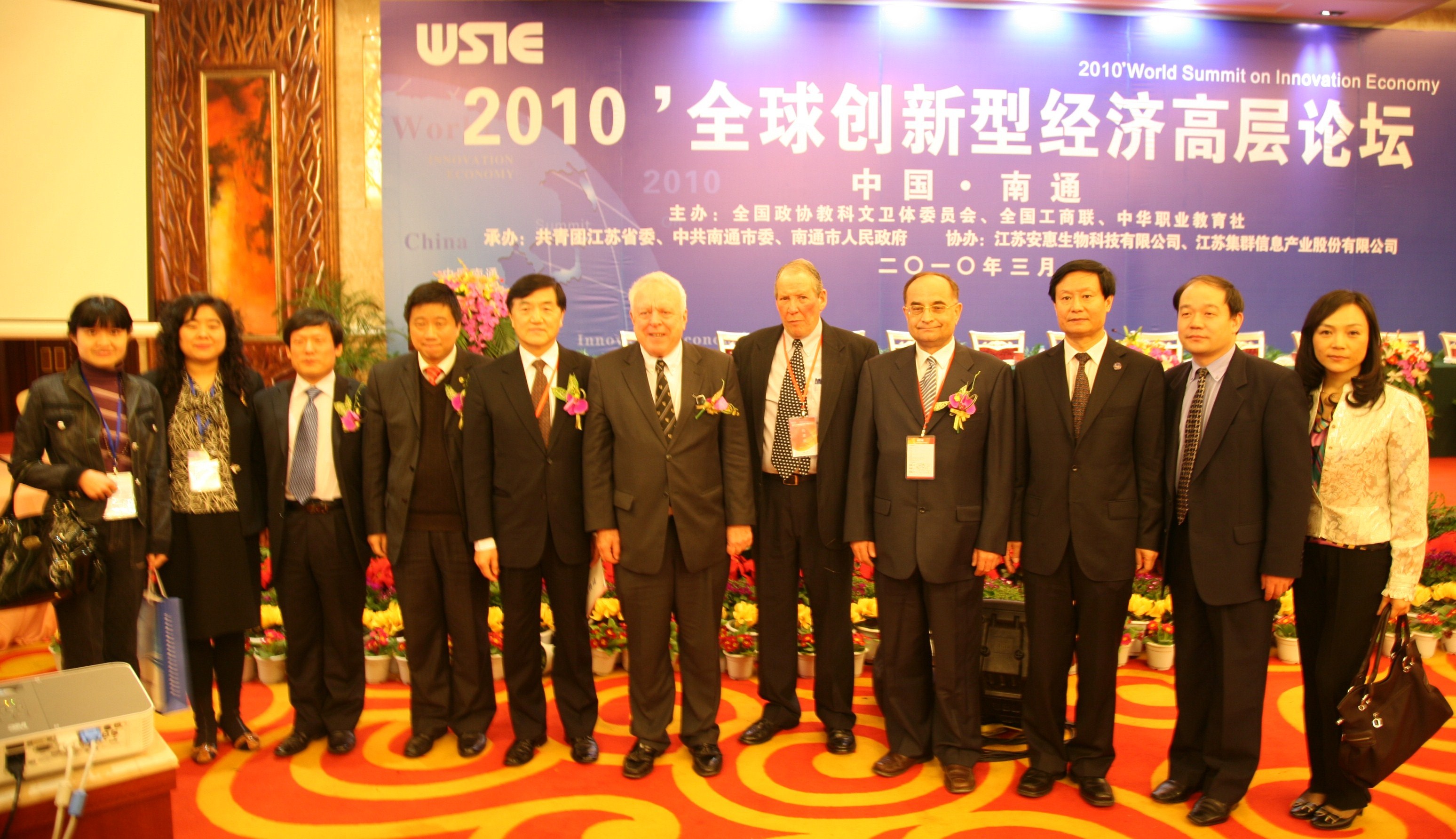 7. The New Entrepreneurial Age: We're pleased to announce that Larry's fourth book will be published in early 2011 by Brick Tower Press in New York City. It will be a revision and updating of his three earlier books and his Conference Board Review columns -- plus new sections on emerging themes such as Social Entrepreneurialship and entrepreneurial education for high school and university students. The book will also contain, for the first time, the Application Exercises from all three of our seminars, Getting Entrepreneurial! (for individual entrepreneurs), The Spirit of Enterprise (corporate entrepreneurship for managers) and Creating An Entrepreneurial Economy (for governments). Bob Diforio, Larry's longtime literary agent and friend since their Harvard Business School days, once again handled the publishing arrangements--this time with John Colbert, the innovative publisher of Brick Tower Press. The new book will be available in both print and internet formats. At left is the draft cover.